Steve & Gwendolyn Friedman's 'March to Independence' Workshop
Sep 10, 2023 1:00PM—3:00PM
Location
TBD
Cost $0.00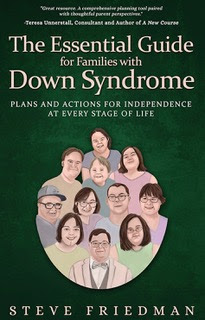 FREE WORKSHOP OPPORTUNITY
Steve & Gwendolyn Friedman's 'March to Independence' Workshop
Sunday, September 10, 1:00 P.M.
Location TBD
The Friedman's have compiled an essential reference guide for families with Down syndrome. They are thrilled to share learnings, tips, and essential information to help you navigate the oftentimes overwhelming path toward independence for your son or daughter. The workshop will be interactive with exercises to develop the foundation of your Independence Plan. Topics will include social, safety, health, financial/benefits, legal instruments, housing, and more. Ample time will be provided for Q&A.
Please feel free to check out their website at https://www.beyonddownsyndrome.net/
Steve Friedman, a native Alabamian, is a parent, advocate, and award-winning author. Since retiring from corporate America, he has dedicated his writing to sharing experiences to empower others to navigate their path to personal independence. Steve and his wife, Jennifer, hail from Austin, Texas. Gwendolyn lives at the Marbridge residential living community in nearby Manchaca, Texas and their other two kids are in Washington, DC and at The Ohio State University.
Please register on our website, so we know how many people to expect and can thereforeplan a location.