Our vision is to see people with Down syndrome living meaningful lives as productive members of their communities throughout all stages of life by increasing awareness, promoting acceptance and advancing advocacy.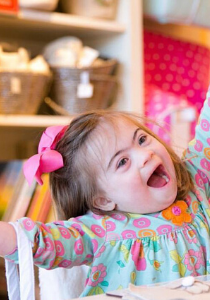 The Beginning

Down Syndrome Alabama started in June of 1987 as a group of dedicated parents who wanted to advocate for their children who had Down syndrome. They incorporated under the name PADS (Parent Advocates Down Syndrome) and started this organization.

April 23, 2013

In August of 2012, the Board of Directors made and seconded a motion that the name of the organization be permanently changed to Down Syndrome Alabama. And on April 23, 2013 the amendment was filed and the organization officially changed it's name.

The Present

In the new year of 2020, Down Syndrome Alabama elected new board members and hired a new Executive Director in the hopes that we can move the organization forward to become a leading champion in our state for those living with Down syndrome.
Kelly Peoples has worked in non-profit in the Birmingham area since 2001 and brings knowledge of development, marketing, and management. She was excited to join Down Syndrome Alabama in January 2020 as DSA builds on past successes to implement a plan of strategic growth in programs, outreach, development, and membership. Peoples received her degree in Public Relations from Auburn University. She and her husband Greg live in Hoover, AL with their three children.
Marcella Anderson-Roberts, Esq.
Board of Directors, President
As a daughter of the King, wife, mommy mogul, attorney and entrepreneur, Marcella Roberts currently serves as Board President of Down Syndrome Alabama, Inc. Marcella became involved with Down Syndrome Alabama after giving birth to twin boys and receiving a diagnosis of Down syndrome for one of them. The family had no idea they were in for the best ride of their lives as God showed them the true meaning of unconditional love. Married to attorney Kevin Roberts, they have four children. Her time is spent caring for her family, serving the Down syndrome community, business ventures, volunteering for various civic and community organizations and enjoying life.
Board of Directors, Vice President
Stephanie joined the Board of Directors in January 2020. She provides 15 years of experience in business along with 8 years of working in marketing and communications. Her involvement and volunteer work with Down Syndrome Alabama started in 2012 when her son was born and diagnosed with Down syndrome. Her passion to help others on their DS journey is what lead her to take on a leadership role. She and her husband Rob live in Trussville with their son Zac.
Board of Directors, Treasurer
Katherine Gorham got involved with DSA through the Learning Program in 2013. Two years later, she helped develop and administer a two day, statewide education conference. After the sucess of the conference, she worked to implement an Education division for DSA to provide resources to educators in our area. She is actively involved in her local PTO and currently sits on the Vestavia Hills Parks and Recreation Foundation Board. She joined the DSA Board in January of 2020 as the Treasurer. She lives in Vestavia Hills with her husband, Bob, and is mother to five children. Her youngest, Nate, who has Down syndrome, is the inspiration and drive for her advocacy through DSA.
Board of Directors, Secretary
Allison has been involved with DSA since the year her son with DS was born in 2007. She was involved in the Learning Program when it started and is currently serving her final Board term on the Executive Committee as Secretary. Allison was the chair for STEP UP for DOWN SYNDROME Walk 2019. She has a heart for our community and also serves on the Vestavia Hills Park and Rec Board and Athletic Board. Allison also has a son starting college in the fall and a rising 8th grader and has been married to Martin for over 25 years.
Katherine Barr, Esq.
William McCalley
Beth Olive, Self Advocate
Bob Schilli
James Strong, MD
Susan Sturdivant
James Whatley