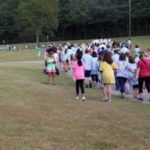 Just getting your loved one outside for a small amount of time several times a week can increase their physical activity and help their mental health!
If you're stuck inside, this could look like online family fitness classes like the recent series launched by NEO Kids, PopSugar Fitness' family sweat sessions, or UNICEF Kid Power dance and yoga platform. This article from Dance Parent 101 has many links to free fitness classes.
With the weather warming up soon, this is a perfect time to get outside and get moving!