COVID-19 is 10 times deadlier for people with Down syndrome, raising calls for early vaccination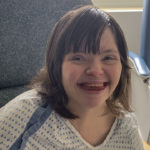 When the COVID-19 pandemic descended last winter, Catherine Ross was filled with dread. Her 36-year-old sister, Amanda Ross, has Down syndrome (DS), which makes her especially vulnerable to respiratory viruses. Amanda Ross had been hospitalized repeatedly with pneumonia. In 2017, she ended up on a ventilator and nearly died.
In April, she was back on a ventilator. She lives in a group home in Somers, New York and had been diagnosed with COVID-19 on 31 March. The doctor told her close-knit family that, given her history, they needed to prepare for the worst. "It shook us," Catherine Ross says. Her sister and others with DS, also known as trisomy 21, "are dealing with a stacked deck against them in terms of dealing with the virus," she says.
Among groups at higher risk of dying from COVID-19, such as people with diabetes, people with DS stand out: If infected, they are five times more likely to be hospitalized and 10 times more likely to die than the general population, according to a large U.K. study published in October. Other recent studies back up the high risk.
Continue reading the article by Meredith Wadman in Science Magazine.