How people with Down syndrome are teaching Google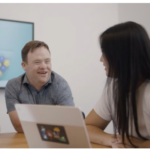 Working with the Canadian Down Syndrome Society, Google is collecting voice samples to teach its Google Assistant to understand people with the condition.
When Matthew MacNeil uses the voice-to-text feature on an Android phone, the resulting transcription looks nothing like what he said.
"Hello, my name is Matthew MacNeil. I live in Tillsonburg, Ontario," becomes "Hello my name is Master MacNeil. I live in traffic Ontario."
MacNeil, who is 30, has Down syndrome, and he's often frustrated that voice technology, like the Google Assistant, on smartphones doesn't always understand what he's saying. MacNeil, who lives independently with two roommates, relies on voice assistants on his personal devices to log the hours he works each week at his local supermarket, Sobeys. He also uses it to set timers for his workouts at home.
But the technology doesn't always work well.
"It's always autocorrecting what I say," he said in an interview with CNET. "And I'm like, 'I didn't say that. I said this.'"
Continue to the CNET article by Marguerite Reardon here.